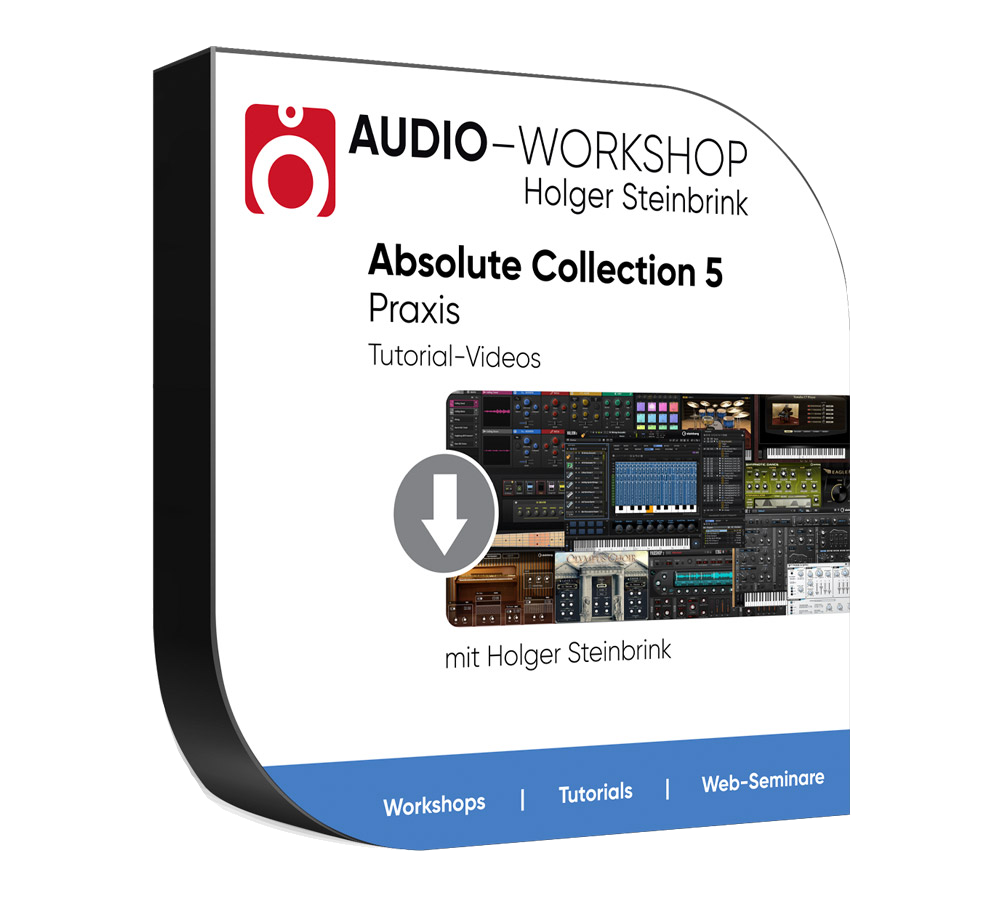 Laufzeit: über 45,5 h
Kapitelanzahl: 261
Auflösung: 1920 x 1080 Pixel (Full HD)
Für PC, Mac & iPad sowie Tablets
Erhältlich als Download und auf USB-Stick (ca. 8 GB)
Absolute 5 Collection Tutorial-Videos
Folgende Tutorials sind Bestandteil der Absolute 5 Collection:
HALion & HALion Sonic Praxis Expanded inkl. aller Features zum HALion 6 und HALion Sonic 3
Groove Agent 5 Praxis
Backbone Praxis
Retrologue Praxis
Padshop 2 Praxis
The Grand 3 Praxis
HALion Symphonic Orchestra Praxis
Steinberg Instruments Praxis (Dark Planet/Hypnotic Dance/Triebwerk)
Olympus Choir Micro (nur exklusiv in dieser Tutorial-Collection enthalten)
Electric Bass & Amped Elektra (nur exklusiv in dieser Tutorial-Collection enthalten)
Alle Tutorials dieser Collection (bis auf Olympus Choir Micro/Electric Bass & Amped Elektra) sind auch separat als Download erhältlich!
Die Absolute 5 Collection Tutorials sind für alle Anwender dieser VST3/AU-Instrumente geeignet - unabhängig vom verwendeten Sequenzer. Das Tutorial umfasst insgesamt 261 Kapitel mit einer Gesamtlaufzeit von über 45,5 Stunden in Full-HD-Qualität (1920x1080).
Aus dem Inhalt:
Tutorial-Paket zur Absolute 5 Collection
Theorie & Praxis zu allen Instrumenten
Groove Agent 5
Backbone Drum-Resynthesizer
HALion 6 & HALion Sonic 3
Retrologue 2 & Padshop 2
HALion Symphonic Orchestra und The Grand 3
Dark Planet, Hypnotic Dance & Triebwerk
Olympus Choir Micro
Electric bass & Amped Elektra
Zum extrem günstigen Paketpreis
Autor Holger Steinbrink arbeitet mit Cubase seit der allerersten Version und verfügt über jahrelange Erfahrung als zertifizierter Steinberg Trainer. Er ist Buchautor ("Cubase Profi Guide") und Tutor ("Cubase Complete Tutorial"-Serie).